What's your element: water, fire, earth, wood, metal
Each of the five elements possesses its own attributes.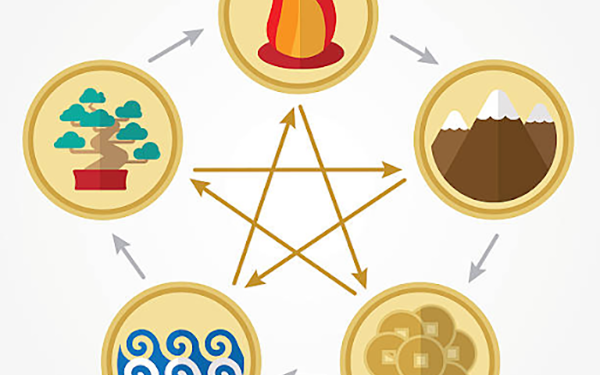 Colours are important in our lives, not just for the vibrancy they possess but also because of the significance that they hold. Bhutan is a country decorated with vibrant colours — from the popular Tshechu festivals, national dress to the walls of the dzongs and traditional houses.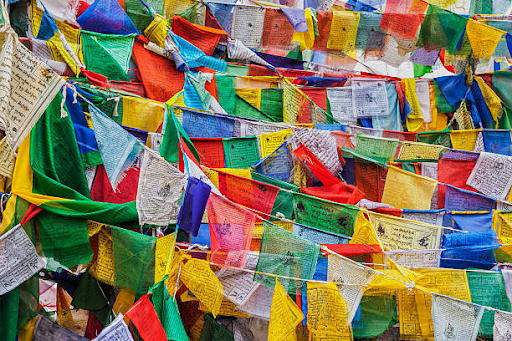 On a personal level, each of us possesses a certain colour associated with our birth element. According to Buddhism, we are all made up of stardust and an individual is merely a speck in the universe. Depending on our time of birth, we bear certain characteristics of our animal zodiac signs, and we also possess five elements that represent five colours. 
The five colours of the prayer flags in Bhutan also represent the five basic elements of nature.
Your element is determined by the year you were born in. Eg. People born in 2021 (Iron Ox Year) have Iron/Metal as their element. 
Five elements:
Earth - Yellow
Fire - Red
Metal - White
Water - Blue
Wood - Green
The elements are all interdependent as they are all basic elements of nature. Each element with its own strength and weakness gives life to another element while at the same time, being controlled by another.
The Generating Cycle: Creation
Metal holds water.
Water nourishes trees.
Wood gives birth to fire.
Fire burns and produces earth.
Earth then gives us metal.
The Controlling Cycle
Metal cuts wood.
Wood breaks down earth.
Earth absorbs water.
Water extinguishes fire.
Fire melts metal.
The 5 Elements
There are 12 animal zodiac signs in Bhutanese astrology. The animals are associated with the five different elements. Therefore, the specific animal-element combination makes up the year cycle – e.g. the Metal Dragon Year repeats once every 60 years.
To have all the five elements present in a family or a team is said to bring harmony as the elements which would either control or support are nullified. Therefore, it creates an equilibrium where the different elements would support each other.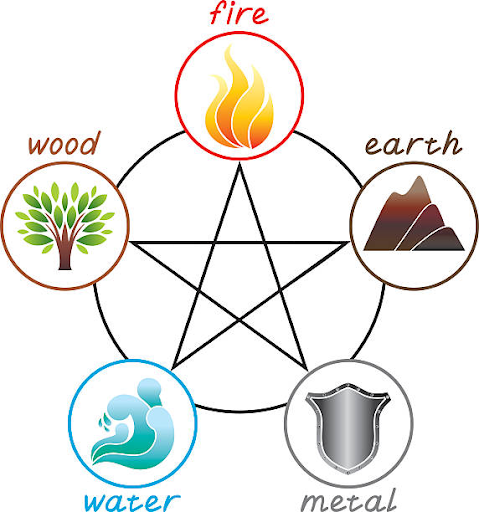 The Characteristics of the 5 Elements
1) Metal
Strengths
People born with the metal element are ambitious and competitive. They can lead others and are often independent. They have great determination and have great zeal for doing work. People with the metal element have great perseverance and fight for themselves. They are usually disciplined, focused and able to handle their own issues. They can be spiritual and possess strong instincts.
Weaknesses
Due to their stubborn and independent nature, they are opinionated and are non-expressive. They tend to be isolated from the group due to their unreasonable behaviour. Since they don't mind being alone, they cut ties with those who fail to fulfil the expectations or who oppose them. They are susceptible to unkind people.
2) Earth
Strengths
People born with the Earth element are organised. They are effective planners. When it comes to life, they are serious and practical. They are analytical and have good insight into situations. Since they are practical, they keep things as factual as possible. They logically approach situations. They are hard-working, wise, responsible, trustworthy, loyal, caring and intelligent. They can be good entrepreneurs too if they are willing to take risks as they are disciplined, reliable and rather stable. 
Weaknesses
However, they are conservative and reserved which makes them overprotective of themselves. They are persistent and are stingy at times. They don't like to take risks and prefers to do everything safely. Due to this nature, they may be seen as unimaginative and boring. 
3) Fire
Strengths
People born with the fire element are dextrous, charming, attractive, impulsive and highly knowledgeable. They are intelligent and have a good commanding presence. They are positive and have a great deal of passion. They are quite ambitious and adventurous. Most of them are extroverts, expressive, influential and make great decisions. They are creative and are natural innovators and leaders. 
Weaknesses
Due to their extroverted nature, they dislike being alone and may seek attention. They are impatient due to their outgoing nature. They can also be insensitive and inconsiderate at times and may manipulate things. People with fire elements are susceptible to their mood swings and may be aggressive and impulsive.
4) Water
Strengths
People born with the water element are tactful and an influencer. They are good observant and usually open-minded. They empathise well with others and they can be pretty good counsellors. They are also good mediators. They tend to have good memories and are determined when focused. They are meticulous when given a project. People with water elements are resilient, intuitive and adaptable, gentle and soft to people around them.
Weaknesses
However, they can be egoistic and indecisive. They are often passive people and rely too much on others' support.
5) Wood
Strengths
People born with wood elements are warm and sociable. They are kind, generous and compassionate. They can empathise as they are sensitive and selfless. They are understanding and ethical. Most people with wood elements are poised and can adapt to any situation. They are practical, organised and cooperative with others.
Weaknesses
However, they tend to overcommit and also may quit things easily. They are passive, indecisive and are poor at money management.
According to ancient Taoist beliefs, each person has all 5 elements in their personality with a dominant element.
While it's fun and interesting to better understand how astrology affects our lives, it's important to note that astrology is not solely responsible for our personalities and characteristics. Human beings are complex creatures and plenty of factors influenced the person that we are today. 
---
---