Interesting Bhutanese tradition & culture
Ornate penises flanking doorways, hanging off rooftops, painted on the sides of homes, as signage and on window displays. From bright yellows to pastel pinks, sometimes hairy and sometimes enveloped by a dragon spitting fire, some with piercing eyes and some even ejaculating. How does this rather shocking display of male genitalia fit in with this seemingly traditional country?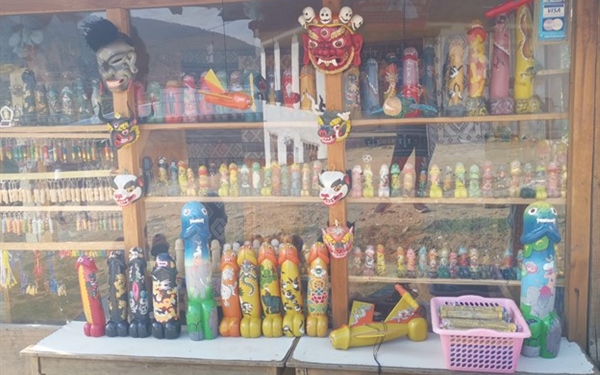 Bhutan is blessed with rich culture & tradition. The majority of Bhutanese are Buddhist. The tiny kingdom has numerous ethnic tribes. Presently 24 different languages are spoken in Bhutan. 'Dzongkha' is the national language of Bhutan. However, both 'Dzongkha & English' are considered official languages.
According to one research study, tourists who visited Bhutan ranked 'Bhutanese architecture' as the most authentic resource among the other few resources that attribute to Bhutanese authenticity. Today, traditional Bhutanese architecture remains alive in Bhutan. The Department of Urban and Housing looks after the appropriate architectural design in Bhutanese buildings to keep buildings authentic and unique. All buildings are constructed with multi-coloured wood frontage, small arched windows and sloping roofs. Most of the traditional walls of the Bhutanese house are painted with 'phallus'.
Foreigners who travel to Bhutan can see phalluses mushrooming on the walls of Bhutanese buildings. From the religious perspective, Bhutanese believes that the painting of phallus or hanging wooden phallus will ward off evil spirits bringing luck & prosperity to the household.
Some unique cultural identities that serve as tourist attractions are in various forms of arts and crafts. 'Zorig Chusum' refers to the 13 traditional arts and crafts. These arts are expressed through Bhutanese paintings, carving, sculpture, calligraphy, gold, silver and black smiting, bamboo work, weaving and embroidery, pottery, masonry, paper and incense production.
One of the most distinctive features of the Bhutanese is the traditional dress, handmade textiles, traditional ceremonies and religious festivals that possess traditional and religious significance.
The physical experiences like Bhutanese national game 'archery', trekking up the magnificent Paro Taksang or dipping in the hot stone bath are some authentic experiences a tourist can expect from their visit to Bhutan.
What makes Bhutanese people stand out from the crowd is their traditional dress. Bhutanese men wear 'Gho' a longish robe tied around the waist by 'Kera', the long belt-like woven using Bhutanese textiles. You can also find women wearing exquisite 'Kira' strutting down the street on a daily basis.
There are many Bhutanese traditions and customs that have been passed down for generations. There is even an official code of conduct, Driglam Namzha, that Bhutanese adhere to in official settings. 
There are plenty of things Bhutan can offer to visitors. 
---
---